Last year saw more than half a billion dollars spent on hemp based products in the USA according to the Hemp Industries Association (HIA).
In the association's summary of last year's results, personal care products topped the list in terms of sales revenue.
Personal care products – 26% ($147 million)
Industrial applications – 20%  ($116 million)
Textiles – 17% ($95 million)
Hemp foods – 16% ($90 million)
Cannabidiol or CBD based products – 11% ($65 million)
Supplements – 8% ($47 million)
Other consumer products (e.g paper) – 2% (~ $11 million)
The $573 million appears to be a drop from its estimates last year, but the HIA explains it now has more specific information. It says this year's estimation doesn't indicate a decrease in the actual hemp market, but that it now has better data to draw on to generate more conservative, but more accurate numbers.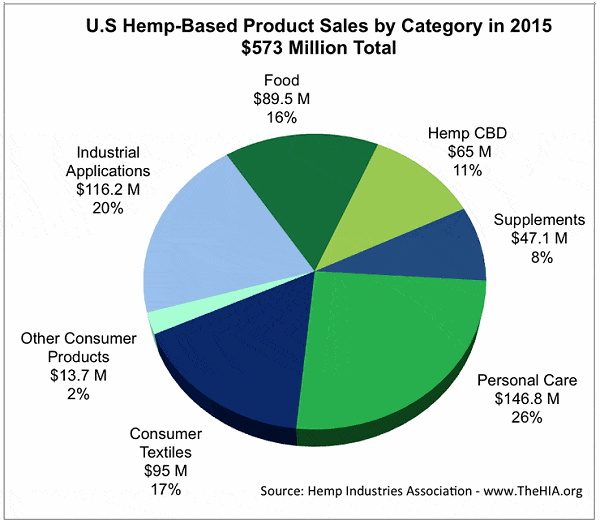 SPINS data indicates combined growth of hemp retail sales in the U.S. is continuing steadily;  progressing as follows over the last few years:
+ 7.3%  – 2011
+ 16.5% – 2012
+ 24% -2013
+ 21.2% – 2014
+ 10.4% – 2015
There's certainly growing demand for industrial hemp based products, but what about supply?
The HIA estimates approximately 3,997 acres of industrial hemp crops were planted in 7 states in the USA last year. While 28 states have passed legislation that enables hemp farming under the conditions of the 2014 Farm Bill, the regulations are very restrictive.
As a result, a substantial amount of hemp material and products are imported.
" Entrepreneurs, manufacturers, farmers, consumers are all on board to expand the hemp market," says Eric Steenstra, Executive Director of the HIA. " We need Congress to pass federal legislation to allow commercial hemp farming nationally, for this ripe industry to finally be able to bloom."
On a related note, retail sales of medical marijuana in the USA last year reached an estimated whopping $2.0 – $2.4 billion.
The Hemp Industries Association represents the interests of the U.S sector and encourages the research and development of new hemp products. Earlier this year, the HIA took on the FDA after a number of warning letters were sent out to U.S. vendors selling cannabidiol products.