The U.S. legal cannabis industry is set for another record-breaking year, and the road ahead is one to more massive growth states the Marijuana Business Factbook 2016.
Produced by Marijuana Business Daily, the authors of the Factbook estimate retail sales of medical marijuana (MMJ) in the USA will reach USD $2.1 – $2.6 billion this year, up from an estimated $2.0 – $2.4 billion in 2015.
Looking further ahead, medical cannabis sales in 2020 could reach between $2.7 billion and a whopping $5 billion.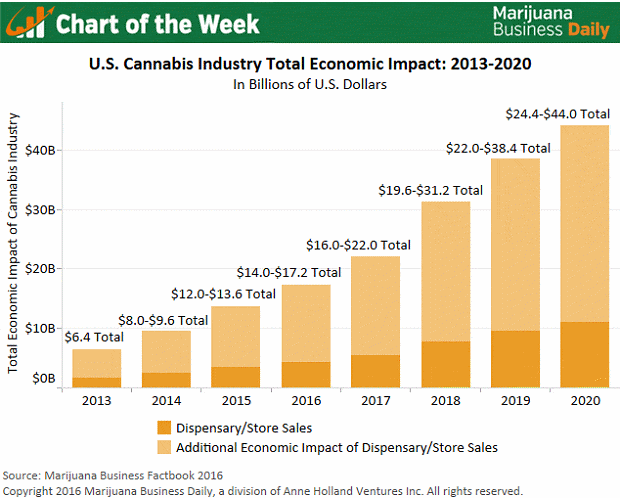 By the end of this year, there may be as many 1,300 infused product manufacturers, 4,500 wholesale cultivators, 120 testing labs and 22,000 ancillary services, technology and product companies across the nation. In total, up to 33,000 people could be employed in the U.S. legal cannabis industry by the end of 2016.
All this activity will have additional economic benefits. For each dollar spent/earned by cannabis companies, an additional three dollars in economic benefit will be realized states the report.
"We're witnessing the emergence of a business that is about to become a massive economic force," said Chris Walsh, Marijuana Business Daily's Managing Editor. "These figures, which we deem conservative, show not only how important the industry already is to the U.S economy at large, but also how much more important it is about to become."
The U.S. legal cannabis industry could pump up to $44 billion annually into the USA's economy by 2020, assuming current business and legalization trends continue states the report.
While competition is heating up, approximately 75% of companies in all major sectors are at least breaking even, with 20% of marijuana businesses generating impressive profits.
Many cannabis entrepreneurs have needed to finance their own operations as interested investors were scarce, but that is now rapidly changing. 2016 will see a flood of money available for those with a solid business plans.
A free copy of a summary of the Marijuana Business Factbook 2016 can be downloaded here.
Another report released last month is even more bullish, forecasting that in 2020, medical marijuana sales in the USA could exceed $10 billion.