The US industrial hemp industry is expected to finish up 2015 with USD $500 million in consumer sales.
According to the Hemp Business Journal,  consumer sales of hemp products reached $400 million in last year – up 26 percent on 2013; and this year the Journal expects similar growth. Just in the hemp CBD (cannabidiol) market alone, which didn't exist a few years ago, sales are predicted to have climbed to $85 million.
"We expect growth in sales of these products will be one of the primary drivers of the broader hemp industry, with a compound annual growth rate of 33 percent forecast for 2015-2020," says the Journal.
Looking ahead out to 2020, U.S. sales of all hemp products in that year could reach $1.5 billion; with one quarter of that figure attributable to products for the construction, industrial and technical fabrics sector.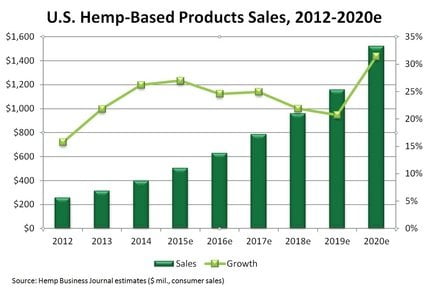 Industrial hemp is an incredibly versatile crop, said to have 50,000 uses (if you find the full list, please let us know – darned if we can). It can be utilised for everything from clothes to bodycare products, food to car parts and fuel to concrete (hempcrete).
Hemp has been utilised by humanity for at least the last 12,000 years for fiber and food.
Countries such as Australia are yet to realise the full potential of industrial hemp. While there are many individuals in the nation who do; archaic and draconian government legislation is still holding the industry back in a very big way.
It boils down to being a case of mistaken identity, with industrial hemp lumped in with its psychoactive cousin – but they are very different plants. For starters, industrial hemp has a fraction of the psychoactive chemical THC. So low in fact, it has about as much value as a recreational drug as lettuce.
However, other countries have already grabbed the bull by the horns and embarked on growing thriving industries. This year, European nations are estimated to have cultivated over 50,000 acres of hemp and in Canada, 100,000 acres are scheduled for harvest in 2015. In the USA, twenty-two states have enacted state laws relating to industrial hemp.