This high-tech inhaler takes vaping medical marijuana to a new level and is claimed to give physicians the confidence of prescribing cannabis in the same way as other drugs.
While therapeutic cannabinoids such as tetrahydrocanaibinol (THC) and cannabidiol (CBD) can be extracted and mixed to varying proportions, some swear by "whole plant" remedies – a more natural way of consuming cannabis and one that includes ingesting the dozens of other cannabinoids in the plant.
One of the "natural" ways of consuming cannabis is smoking it. But burning plant materials and drawing smoke into the lungs is probably accompanied by some nasty compounds; the by-products of combustion.
Vaping cannabis, i.e. heating to a temperature high enough to release cannabinoids but without burning the material could be a safer method. However, it can be a bit hit and miss in terms of dosing with currently available vaporizers.
The Syque Inhaler seeks to solve the challenges of vaping. It's claimed to be the world's first metered-dose pharmaceutical grade medical cannabis inhaler.
The device provides dosing at  100 microgram precision, real-time thermal & flow controllers, what's described as "lung interfacing" and wireless connectivity. Dosing levels and monitoring can be carried out via smart phone.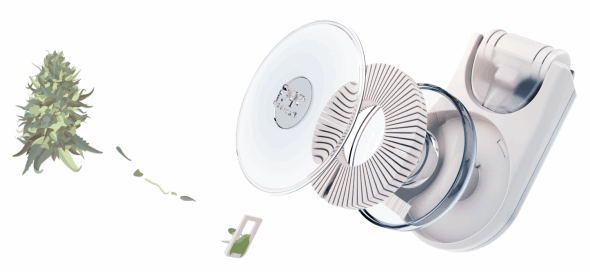 Medical cannabis used in the device, also prepared by Syque, is granulated and packed into cartridges, without any chemical preparation or added excipients.
The method of dosing, which can also be boosted or tapered off by the patient is designed to consistently provide the optimum level between pain and psychoactivity.
As well as the personal vaporizer, the company has also created Syqe Inhaler Exo; a hospital version for professional healthcare settings that features what it calls a caregiver interface.
"This novel small device allows us physicians to administer cannabis in a truly pharmaceutical manner," said Dr. Seth Kindler, Psychiatrist, Medical Director And Chief Science Officer of Syque.
"Finally, government and health agencies can recognise cannabis as a true medical drug. This breakthrough will dramatically improve the lives of millions of people around the world."
The management team of Syque appears solid. Among the team is Former Director General of the Israeli Ministry of Health,  Dr. Eytan Hyam.
It's not clear from the company's web site when the Syque Inhaler will be available commercially.
Aside from Syque's own clinical research, other studies indicate vaping could be a superior alternative to smoking medical marijuana.
A recent Swiss study suggests vaping medical cannabis compounds using electronic cigarettes could be efficient, user-friendly and safe. A previous study out of Switzerland from a different institution also gives the thumbs-up to vaping; in an academic way of course.