NZ politicians take note – yet another poll has indicated growing support for medical cannabis in New Zealand in the lead-up to general elections next year.
A poll carried out by research company UMR early in 2016 indicated 72 percent of respondents expressed support for medical marijuana. Six months later, another UMR poll shows that support is growing stronger.
Conducted for Start The Conversation between 29th July and 17th August 2016, the latest survey report shows 76 per cent agreed New Zealand's parliament should change laws so patients have safe, legal access to affordable medicinal cannabis and cannabis products; assuming those products are prescribed by a licensed doctor. Only 12% opposed this idea.
An interesting aspect was the age group where support was strongest – the 45 – 59 age bracket.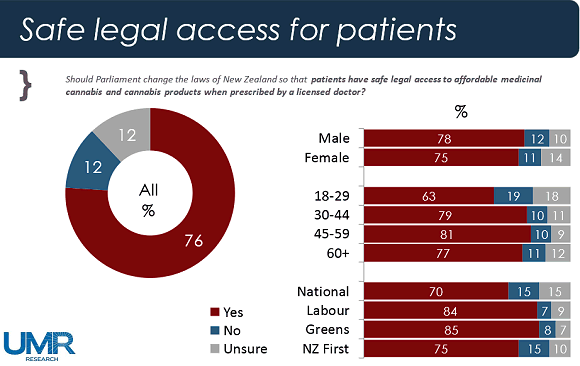 Another question centred on natural cannabis and medicinal cannabis products being treated as herbal remedies in a therapeutic setting. It also saw significant support – 61%.
The latest poll (PDF) was a nationally representative survey of New Zealanders 18 years of age or older.
The National Organisation for the Reform of Marijuana Laws (NORML New Zealand Inc) says the latest results should be an important flag for NZ Prime Minister, John Key.
"The message John Key needs to hear is that very few people support the status quo, including National Party voters, and he ignores them at his own peril," said NORML spokesperson, Chris Fowlie.
According to Start The Conversation, the New Zealand Drug Foundation called for national conversation about cannabis in 2007.
" For nearly a decade, this conversation has not taken place," says the group.
NORML, which is a part of Start The Conversation, says the poll will be used to decide whether to go-ahead with coordinating a cannabis law reform referendum to coincide with next year's general elections in New Zealand.
The pressure has really been turned up on the issue this year in the country through various polls and activists such as Rebecca Reider. Ms. Reider beat possession charges earlier this year thanks to a legal loophole and recently brought the first fully declared raw medical cannabis through New Zealand customs.