A newly-released report forecasts that in 2020, medical marijuana sales in the USA could exceed $10 billion.
The State Of Legal Marijuana Markets – 4th Edition, published by Arcview Market Research and New Frontier, is generally quite exuberant over the future of the US market.
"It is undeniable that cannabis is one of the fastest growing industry in the U.S," said New Frontier CEO Giadha DeCarcer. "Twenty-three states already permit medical cannabis use, along with four states and the District of Columbia allowing full adult use."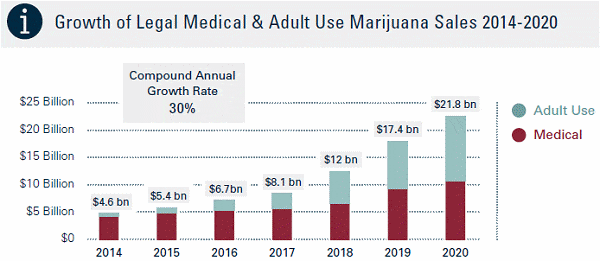 The report states 2015 saw a significant shift in federal attitudes to medical cannabis. Citing an example of a change in content on the National Institutes on Drug Abuse (NIDA) web site that acknowledged potential medical benefits; the report authors noted this was "a very significant concession for an agency whose research into cannabis had previously focused exclusively on the harms it caused".
Even military veterans may soon have access to medical cannabis under VA schemes. The language of the FY2016 Military Construction and Veterans Affairs Appropriations Bill  originally mentioned VA doctors could recommend medical cannabis to patients in states where it is legal. While this wording was removed, it indicates the level of congressional support as the version containing the wording was passed by the Senate.
The report also mentions the DEA easing some regulatory requirements late last year that will streamline research into CBD (cannabidiol), a compound showing significant promise in treating conditions such as some forms of epilepsy.
The lifting of medical cannabis prohibition will march on this year say the authors; with Florida, Ohio, Missouri and Pennsylvania seen as being best positioned to advance medical laws in 2016. If these states should join the twenty-three others, this will significantly expand medicinal marijuana access in the eastern half of the U.S.
The report does send up a few red flags – such as the upcoming presidential election, when " candidate stances on cannabis are poised to have a dramatic effect on the direction of the industry as a whole."
Should Hillary Clinton be voted in as the next President; the medical cannabis industry may have somewhat of an ally as Ms. Clinton appears to (cautiously) support further research into medicinal marijuana as well as industrial hemp.
An executive summary of  The State Of Legal Marijuana Markets – 4th Edition can be downloaded here.