A survey of more than  2,400 medicinal cannabis users indicates a significant percentage of patients are ditching traditional medicines in favour of products containing cannabidiol (CBD).
Cannabidiol is a non-intoxicating cannabinoid extract from cannabis plant that is showing great promise in treating a range of conditions.
A recent survey conducted by Brightfield Group of more than 2,400 HelloMD medicinal cannabis community members analysed the group's experiences and perceptions of cannabidiol.
Of those surveyed, over 70% of respondents regularly use CBD products, but only 9% used cannabidiol products exclusively.  42% of CBD users have stopped using conventional medications in favour of CBD and 80% found cannabidiol products to be very of extremely effective treatments.
An interesting highlight from the survey was significantly more CBD users are female (55%) than male (44%).
The most common condition cannabidiol was being used to treat was anxiety, followed by sleep-related issues.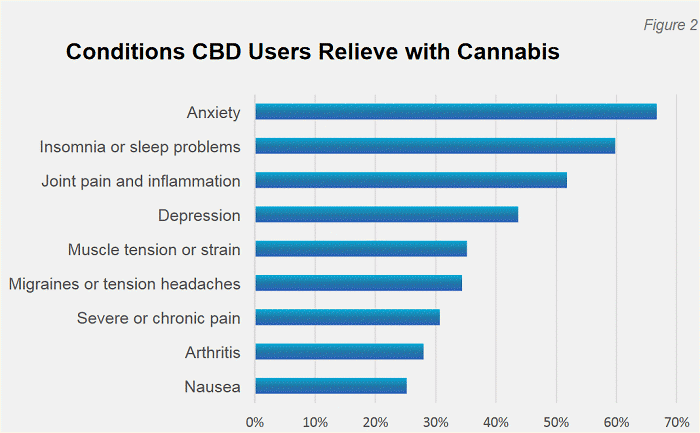 Approximately half of all CBD  users were using marijuana-derived cannabidiol-only products, and more than 20% were consuming hemp-derived CBD products. 53% stated they regularly use CBD-dominant products containing varying levels of the psychoactive cannabinoid tetrahydrocannabinol (THC).
More than half (55%) of CBD users purchase cannabidiol products at storefront dispensaries, 31% via local delivery services, and 17% buy online.
The report notes that generally there is still a lack of awareness of the cannabinoid – and that it can be sourced from industrial hemp. A recent general U.S. population survey (administered through Google Surveys in four U.S. regions) reported up to 47% of those polled were not familiar with hemp-derived CBD.
"Even among regular cannabis users, knowledge and understanding of CBD – particularly the benefits of its various formulations – is often hazy," state the authors. The report says among those who are yet to try it, 28% have a perception that hemp-derived CBD is less effective than CBD-dominant or marijuana-derived cannabidiol-only products.
The full report, Understanding Cannabidiol, can be downloaded here (free – registration required). For a general overview of CBD, view HG's cannabidiol guide.
Another HelloMD related report we recently mentioned provides more evidence of the potential for medical cannabis to help address the USA's opioid epidemic. It found nearly all the 2,897 medical cannabis patients surveyed "strongly agreed/agreed" they were able decrease their opioid use when using cannabis, and 80% "strongly agreed/ agreed" cannabis was more effective than opiates for managing pain.