The U.S. CBD industry grew by nearly 40 percent in 2017 and is set to eclipse $500 million this year according to a recent report from New Frontier Data.
Sales of cannabidiol (hemp and marijuana derived combined) reached $367 million last year and it was the first year sales of hemp-sourced CBD made up the lion's share.
Looking ahead, New Frontier forecasts the U.S. CBD market will grow to $1.2 billion by 2020, and nearly $2 billion by 2022.
"The U.S. CBD market is primed for expansive growth across its three primary sectors, hemp-derived CBD, marijuana-derived CBD and pharmaceutical CBD," said New Frontier Data CEO Giadha Aguirre de Carcer.
With regard to the latter, one cannabidiol product in particular is expected to make a motza. Epidiolex, which was approved by the U.S. FDA for the treatment of seizures associated with Lennox-Gastaut syndrome and Dravet in June, will account for approximately one-third of the total CBD market by 2022 says New Frontier, with sales of over $625 million.
It's not hard to see why – earlier this month we reported Epidiolex's maker GW Pharmaceuticals has estimated an average gross price for Epidiolex of USD $32,500 per year of treatment. To achieve the $625 million figure, only 32,900 patients will need to be using Epidiolex over an entire year. While the majority of these patients will be in the USA, the European market is expected to also do well.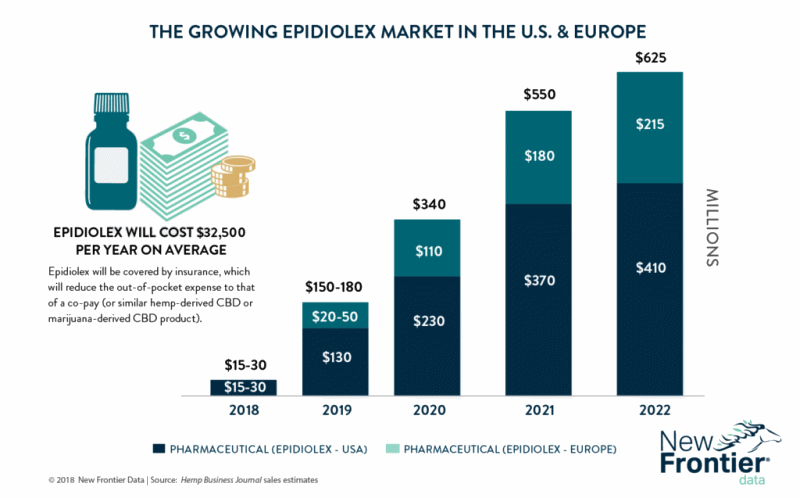 The use of cannabidiol is skyrocketing due in part to favourable legislation in various U.S. states and its potential to treat or manage a wide range of conditions – from skin irritation to cancer.
The CBD Report: 2018 Industry Outlook report can be purchased here.
Last year, there were more than 25,500 acres of hemp grown across 19 U.S. states; 70 percent for CBD extraction, 20 percent for hemp seed and 10 percent for fiber.
Industrial hemp's future looks bright in the USA, with legislation to legalize industrial hemp at a federal level recently included in the Senate Farm Bill. Among its measures, the Hemp Faming Act classifies the crop as an agricultural commodity and removes it from the list of controlled substances.