Alabama's Governor, Robert Bentley, signed "Leni's Law" last week; which will allow epilepsy sufferers and other qualifying patients in the U.S. state to possess cannabidiol (CBD) .
"As a physician, I believe it is extremely important to give patients with a chronic or debilitating disease the option to consider every possible option for treatment," Governor Robert Bentley said. "With Leni's Law, citizens in Alabama will have access to cannabidiol that may help with treatment."
Governor Bentley stated he had realised the benefits of cannabidiol in easing the level and severity of chronic seizures through a study undertaken at the University of Alabama at Birmingham (UAB).
The study reported around half of the subjects responded favourably to the CBD oil therapy; with overall significant improvement in seizure control over a six-month period. Seizure frequency dropped between 32 and 45 percent in the patients depending on dosage, and two patients were seizure free. In most cases, patients tolerated the oil quite well.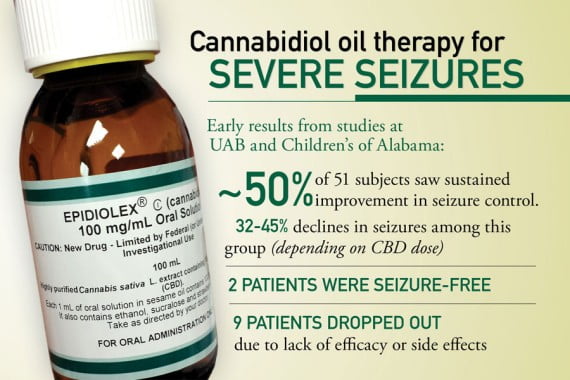 Cannabidiol is a non-intoxicating cannabinoid in medicinal cannabis; i.e. it doesn't create a "high".
The Alabama bill – HB61 – was named Leni's Law after 4-year-old Leni Young's family were compelled to move from Alabama to Oregon in order to gain legal access to cannabidiol to treat her seizures.
Since commencing treatment, the frequency of Leni's seizures have reduced dramatically; from "too many to count" a day, to six between September 2015 and late April this year.
HB61 provides an "affirmative defense" for charges of unlawful possession of marijuana if the defendant used the cannabidiol due to a debilitating medical condition diagnosed by a physician with whom the patient has a bona fide physician-patient relationship; and the CBD is being used to provide the defendant with therapeutic or palliative relief.
Conditions covered under HB61 are:
Cachexia or wasting syndrome.
Severe or chronic pain.
Severe nausea.
Seizures.
Severe and persistent muscle spasms.
Any other condition that is severe and resistant to conventional medicine.
Patients in Alabama should be able to legally possess cannabidiol from June 1.
According to the Marijuana Policy Project, other cannabis related policies being considered in the state include SB 347 and HB 393, which would both exclude industrial hemp from the definition of marijuana in Alabama's controlled substances law.