With cultivating medical marijuana now officially legal in Australia, doctors across the nation have been told to expect increased requests for cannabis medicines from their patients.
The Royal Australian College of General Practitioners (RACGP), don't appear to be very enthusiastic about the new legislation and called cannabis a medication of "last resort".
"Further evidence is still needed, particularly relating to treatment efficacy and the longer term side-effects of cannabis-based drugs," said RACGP President Dr Bastian Seidel..
The RACGP has published a position statement outlining its concerns about medical cannabis, which states there is very little high quality evidence for the medical use of the plant.
It says of what studies there are, they are of  " variable quality i.e. high risk of bias such as incomplete outcome data, low statistical power, and short follow-up time."
The following table outlines the RACGP view of cannabis research to date, based on Grading of Recommendations Assessment, Development and Evaluation (GRADE); an approach designed to systematically compile and assess evidence; including assessment of study bias and side-effects.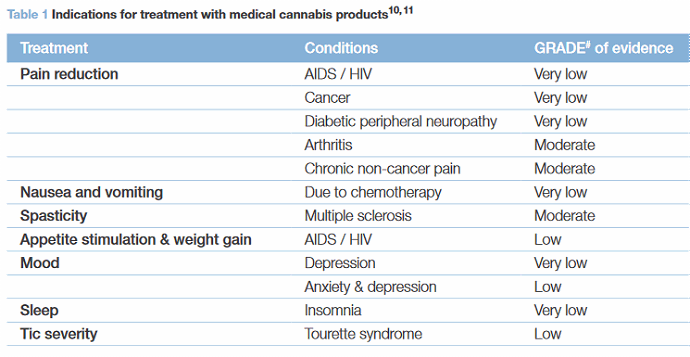 No doubt many would argue against this conclusion; but few would oppose further studies – as long as it didn't further impede access.
Given the nasty side-effects and lack of efficacy of other drugs used to treat conditions where cannabis may be of benefit; too much precautionary principle applied may further and unnecessarily prolong suffering in patients.
The full RACGP position statement on the medicinal use of cannabis products can be viewed here (PDF).
While the RACGP may be perceived to be raining on the parade, Australia's Minister for Health, Sussan Ley,  has welcomed the commencement of the Narcotic Drugs Amendment Act 2016. The amended Act is the mechanism that will kick-start Australia's home-grown (figuratively speaking) industry.
"It is important that doctors have a wider range of options for treating their patients," Minister Ley said.
"Until now, it has been difficult for patients to access medicinal cannabis products from overseas sources. These new laws change that situation by providing for a domestic supply of medicinal cannabis products that are not readily available for import."
As mentioned a couple of days ago, products made from Australian-grown cannabis won't be available until early next year as potential growers and manufacturers haven't been able apply for permission to commence operations until today. It also remains to be seen what products will be available as all will need to pass muster with the Therapeutic Goods Administration (TGA).
As with anything medically-related in Australia; there's plenty of red tape; which will also add to the cost of products.